A BENCHMARK IN FASHION RETAIL
Continuing successfully in the market, winning and charming more customers and consumers, is a constant challenge. That is why Cia.Hering invests in its brands to innovate and always surprise. There is always a Hering Store in the main business locations around the country, the Hering Store franchise is characterized by the variety of products offered. One of its differentials is the quick attention to the needs and desires of consumers, with items to suit all tastes that are constantly in tune with international fashion trends.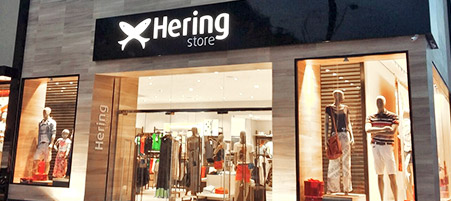 THE AMAZING HISTORY OF A COMPANY THAT IS ALWAYS IN THE LEAD
The Cia. Hering history began in 1880 when the brothers Bruno and Hermann Hering, German immigrants, founded a tee-shirt production company in the city of Blumenau (SC), continuing a family tradition, dating from the twelfth century.
More than 130 years later, Cia. Hering is now the largest garment company in Brazil and the second in Latin America. The work philosophy is always in tune with the trends and market demands.
It was in 1993 that Cia. Hering sought after, using the franchising system, an alternative to implement and publicize their business concept. The methods and processes that characterize the handling and marketing of their products have been standardized across the Hering Store network.
The
Hering Store
franchising system is understood as a business partnership, where close relationships and mutual respect prevails between the franchisees and
Cia. Hering.